Sources Bookshelf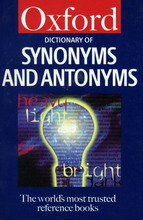 The Oxford Dictionary of Synonyms and Antonyms
Spooner, Alan (Editor)
Publisher: Oxford University Press
Year Published: 1999
Pages: 576pp Price: Paper $17.50 ISBN: 0198602863
Please see our media profile in
Sources
:
Sources Select Resources
This type of dictionary is one that is continually helpful for the student, writer and office worker alike. It has about 150,000 alternative words and extensive cross-referencing. With headwords (those words that you would look up) represented in bold and arranged in a single alphabetical sequence it is relatively easy on the eyes. Within the headword may also be sub-heads in bold at the end of the entries to indicate derivatives in the form of a phrase. Cross-references are printed in small capitals that take you to another entry to provide more extensive range of synonyms. It is also helpful to have related words to the synonyms listed for example under "slope" you would find different kinds for slopes printed in italics. Antonyms for entries are also printed in small capitals and introduced with the abbreviation opp. as to not to confuse it with other cross-references. If you are not certain about the usage of a certain word there are also handy " part-of-speech labels" such as adjective, noun and also illustrative phrases printed in italics. An added bonus to this title is The Lexicon of Hard words that appears at the end of the dictionary. It provides more obscure and unusual words for interesting reading that are used frequently in word quizzes and games. Let it also be noted not every item has it's antonyms listed especially if takes a couple of words to actually indicate the opposite.
[Review by Nicole Redman]
Subject Headings
---

Sources is a directory for journalists, writers, news editors, researchers. Use Sources to find experts, media contacts, spokespersons, scientists, lobbyists, officials, speakers, university professors, researchers, newsmakers, CEOs, executive directors, media relations contacts, spokespeople, talk show guests, PR representatives, Canadian sources, story ideas, research studies, databases, universities, colleges, associations, businesses, government, research institutions, lobby groups, non-government organizations (NGOs), in Canada and internationally.
© Sources 2021. The information provided is copyright and may not be reproduced in any form or by any means (whether electronic, mechanical or photographic), or stored in an electronic retrieval system, without written permission of the publisher. The content may not be resold, republished, or redistributed. Indexing and search applications by Ulli Diemer and Chris DeFreitas.