Sources Bookshelf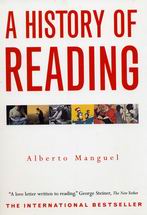 A History of Reading
Manguel, Alberto
Publisher: Vintage Canada, Toronto, Canada
Year Published: 1996
Pages: 372pp Price: $21 ISBN: 0-676-97022-2
Library of Congress Number: Z1003.M33 1996 Dewey: 028'.09
Please see our media profile in
Sources
:
Sources Select Resources
-
Table of Contents
THE LAST PAGE
The Last Page
ACTS OF READING
Reading Shadows
The Silent Readers
The Book of Memory
Learning to Read
The Missing First Page
Picture Reading
Being Read To
The Shape of the Book
Private Reading
Metaphors of Reading
POWERS OF READER
Beginnings
Ordainers of the Universe
Reading the Future
The Symbolic Reader
Reading within Walls
Stealing Books
The Author as Reader
The Translator as Reader
Forbidden Reading
The Book Fool
Endpaper Pages
Notes
Index
Subject Headings
---

Sources is a directory for journalists, writers, news editors, researchers. Use Sources to find experts, media contacts, spokespersons, scientists, lobbyists, officials, speakers, university professors, researchers, newsmakers, CEOs, executive directors, media relations contacts, spokespeople, talk show guests, PR representatives, Canadian sources, story ideas, research studies, databases, universities, colleges, associations, businesses, government, research institutions, lobby groups, non-government organizations (NGOs), in Canada and internationally.
© Sources 2021. The information provided is copyright and may not be reproduced in any form or by any means (whether electronic, mechanical or photographic), or stored in an electronic retrieval system, without written permission of the publisher. The content may not be resold, republished, or redistributed. Indexing and search applications by Ulli Diemer and Chris DeFreitas.