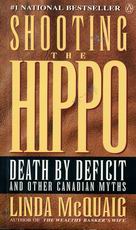 Shooting the Hippo
Death by Deficit and Other Canadian Myths
McQuaig, Linda
Publisher: Penguin
Year Published: 1995
Pages: 308pp Price: $8.99 ISBN: 0-14-017475-3
Library of Congress Number: HJ8033.C3M37 1996 Dewey: 339.5'23'0971
The deficit issue has been used since the 1970s to promote the belief that social spending has placed an excessive burden on many western capitalist states. Linda McQuaig sets out to dispel this and other deficit myths. She debunks the myths about government spending and argues that collective expenditures in areas such as health care, education and welfare are positive investments that benefit capitalist nations. The spending cuts that have been imposed in these areas, she says, are not to balance budgets or reduce deficits but to lower taxation for high income earners.
McQuaig illustrates her argument through seven creatively named chapters that look at particular aspects or myths of Canadian fiscal issues.
She analyses media spin surrounding the issues, such as CTV's coverage of Canada's debt, which explicitly portrayed it as similar to the supposed financial crisis in New Zealand. McQuaig skewers the one-sided media coverage, for inventing a 'crisis' where none existed while ingnoring the very real downsides of reduced social spending. Problems such as growing unemployment, large gaps between the rich and poor, and underdevelopment in affected regions and sectors are all ignored by the anti-deficit campaigners. The anti-deficit campaign, she shows, was orchestrated by large corporations, pro-business think tanks, and the corporate-owned media.
The book includes an extensive notes section with citations for each chapter, and an index where important terms are ordered for quick reference.
[Abstract by Purushoth Saravana]
Subject Headings