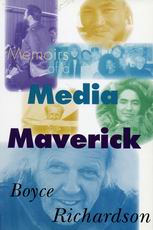 Memoirs of a Media Maverick
Richardson, Boyce
Publisher: Between the Lines, Toronto, Canada
Year Published: 2003
Pages: 259pp ISBN: 1-896357-80-6
Please see our media profile in
Sources
:
Sources Select Resources
When I read an autobiography, I always check out the index to see what the author has to say about people or things. Here, Richardson has a lot to say about Conrad Black, Izzy Asper, Lord Beaverbrook, et al. Read it for yourself as you plough through this engaging memoir of a radical socialist who also was a recognized journalist/writer/filmmaker. Born in New Zealand, he ended up - by 1959 - as features writer for the Montreal Star, interviewing luminaries such as Castro and Leonard Cohen. In 1960, he was posted to London, England. In the eight years he worked abroad, he received maybe two telegrams. He was with the Star until 1971, quitting to write books. He then joined the National Film Board as a researcher and a writer, later moving into direction and production. His career, beginning as a newspaperman in New Zealand in 1945, has spanned five decades. And he is still crusty. The book is loaded with pictures of his family and his work environments. His bibliography and filmography (both listed) include materials on Canadian aborigines, Chinese, the environment, and multinational companies.
Some interesting facts: From 1945 to 1971, he was a staff journalist. How did he last so long with only a handful of employers (the Winnipeg Free Press in 1954, then the Montreal Star until 1971)?
What I don't like about this resource: he says that journalists do tend to take themselves very seriously. Not the ones I know, but maybe I know the wrong ones.
What I do like about this resource: he goes out of his way to always say that journalism is not objective.
Quality-to-Price Ratio: 88, an enjoyable read.
[Review by Dean Tudor]
Subject Headings