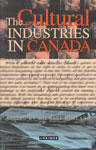 The Cultural Industries in Canada
Problems, Policies and Prospects
Dorland, Michael (ed.)
Publisher: Lorimer, Toronto, Canada
Year Published: 1996
Pages: 376pp Price: $24.95 ISBN: 1-55028-494-0
Library of Congress Number: NX634.C84 1996 Dewey: 070'.0971
Please see our media profile in
Sources
:
Sources Select Resources
Dorland discusses policy problems specific to the Canadian cultural industries that produce cultural commodities, such as books, films and television programs. His book tracks the history of Canada's cultural institutions beginning in the 1920's with small film-making for government departments. This led to the creation of CBC in the 1930's, with the goal of providing Canadian broadcasting for Canadians. From the 1930's onwards, two environments primarily influenced the development of the national cultural industry: the symbolic environment and the industry environment. The symbolic environment consists of the publicly owned crown corporations and agencies, the statutory legislation that defines each body's mandates, the parliamentary committees and ministries which regulate them, and the successive paper trails produced by these bodies. Consequently, the economic development of the cultural industries must take place within the linguistic and symbolic framework created by these four components. In contrast, industry environment is defined as each cultural industry's differential status as an economic objective.
As a product of this dualism, a gap exists between the ambitions of cultural nationalism and the means to create institutions that embody the ambition of Canadians to cultivate their own culture. Within this collection of essays, which examines the effect and ambiguous legacy of state policy on cultural institutions, Dorland provides the reader with a history of the strategies used to lessen this gap. Furthermore, he interrogates the implications of "multimedia behemoths" on the cultural industry in an increasingly competitive global environment and hopes to illuminate the success of the unique Canadian cultural industry.
Dorland demonstrates that the methods and language used to address cultural industries and the policies affecting them are equally relevant to the formation of policy by examining the industries in four parts. The first three parts of the book focus on particular industries: Print Industries, Sound Industries and Image/Data Industries. The final section of the book features four essays on policy issues faced in the Canadian cultural industries. These issues include: how the phenomenon of convergence impacts the field; the evolution and role of copyright in the cultural industry in response to technological developments and a proposal to adopt a mandate of national security to improve the policy apparatus of Canadian culture. In the final essay that re-examines the assumptions about the negative consequences of media imperialism, Dorland proposes that this preoccupation stifles the potential of Canadian culture.
[Abstract by Amanpreet Dhami]
Subject Headings