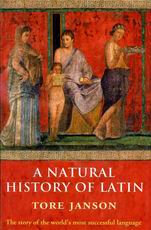 A Natural History of Latin
Janson, Tore; trans. and adapted into English by Merethe Damsgard Sorensen and Nigel Vincent
Publisher: Oxford University Press, Great Britain
Year Published: 2004
Pages: 301pp Price: $38.50 ISBN: 0-19-926309-4
Please see our media profile in
Sources
:
Sources Select Resources
This book, by Janson who recently retired as a professor of languages at the University of Goteborg, was originally published in 2002 in Swedish. It is obvious that Janson loves Latin; it shows on every page.
Latin is the most influential language in the world. It supports the European Romance languages, English, the Roman Catholic Church, and most of the vocabulary in science-technology, law and culture.
This is pop history at its best, for the first 176 pages. He shows how Latin came about in the classical world, the Dark Ages, the Renaissance, and the Middle Ages. Latin as a language hit a bit of a rough patch by the end of the 20th century, It was not taught much in high schools. But it is now enjoying a comeback.
The last 100 pages of the book covers a summary of Latin grammar and lists of Latin words and phrases still in common use (e.g., ad nauseum, post hoc, vox populi, plus many legal and medical terms).
Audience or interest level: communicators, those who love languages.
Some interesting facts: Latin was part of Italic languages (e.g., Oscan, Umbrian) that became dominant when Rome became dominant, and soon became the lingua franca (so to speak) of the Mediterranean.
What I don't like about this resource: a bit short, I'd like more detail, especially on the Roman Catholic church.
What I do like about this resource: there is a bibliography of suggested readings. This is a straightforward, deft account, much like his 2002 book Speak; A Short History of Languages.
Quality-to-Price Ratio: 90.
[Review by Tudor]
Subject Headings