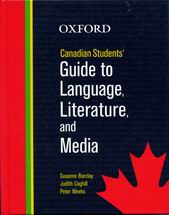 Canadian Students' Guide to Language, Literature, and Media
Barclay, Susanne; Coghill, Judith; Weeks, Peter
Publisher: Oxford University Press
Year Published: 2001
Pages: 410pp ISBN: 0-91-541675-9
Library of Congress Number: PE1121.B35 2001 Dewey: 808'.0427
Please see our media profile in
Sources
:
Sources Select Resources
This book is meant for secondary schools, independent use, or small group study. Its chapters cover poetry (analyzing and responding, understanding meaning, form, and style), narrative texts (novels and short stories), drama, essays (articles, reviews, speeches), personal writing (memoirs, letters, journals, diaries, reflective essays), reports for business and science, business and technical writing (including resumes), and media (styles of newspaper writing, film and video story boards, radio, TV, Internet). In other words, just about everything except children's books#Each chapter has sections within which includes definitions, explanations, samples from professional writers (some of which are annotated), charts, and strategies.
Some interesting facts: there are samples from Canadian writers too.
What I don't like about this resource: attempts too much in one book. For journalists and researchers, there may be whole sections here of little interest.
What I do like about this resource: grammar is covered in the context of the chapter's topic, although there is also a separate section for usage. The book also has material on how to do research.
Quality-to-Price Ratio: 85.
[Review by Dean Tudor]
Subject Headings