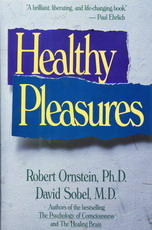 Healthy Pleasures
Ornstein, Robert; Sobel, David
Publisher: Addison-Wesley Publishing, Don Mills, Canada
Year Published: 1989
Pages: 301pp ISBN: 0-201-12669-9
Library of Congress Number: RA776.076 1989 Dewey: 613--dc19
Playing to the natural strengths of mind and body, Healthy Pleasures explores ways to extend our lives as we enrich them, by understanding the crucial role of pleasure in our health.
-
Table of Contents
Acknowledgments
Preface
Part One : The Pleasure Principle
The Pleasure Principle
Civilization and Its Displeasures
The New Science of Mood Medicine
Part Two : The virtues `of Sensuality
Coming to Your Senses
Good Scents and Good sex
Consuming Passions
Why Kill yourself to save your life?
The Rest
Part Three: Mental Investment
"...And the Pursuit of Happiness"
The Optimism Andidote
Telling Yourself a Good Story
Investing in Yourself
Indulging Yourself
Selfless Pleasures
Healthy Pleasures Points
Notes and references
Index
Subject Headings