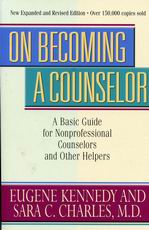 On Becoming a Counselor
A Basic Guide for Nonprofessional Counselors and Other Helpers
Kennedy, Eugene; Charles, Sara C.
Publisher: Crossroad, New York, USA
Year Published: 2001 First Published: 1977
Pages: 434pp Price: $34.95 ISBN: 0-8245-1913-2
Table of Contents
Preface: A Changed Book for a Changed Time
Part One
1. Guiding Principles
2. Emotional Involvement
3. Hard-Bought Wisdom
4. What Other People Do to Us
5. What We Do in Relationship with Others
6. Revelations about Ourselves in Relationships with Others
7. What is it Like to be Real?
8. The Self as Instrument in Helping Others
9. Are We Friends or Counselors?
Part Two
10. How do we Interview?
11. This Wasn't My Idea
12. I Won't Dance, You Can't Make Me
13. Plotting Our Course
14. Diagnosis: Goals and Resources
15. Listening to the Lives of Others
16. To Whom Shall We Go?
17. When Can I Say What I Feel?
18. Supportive Psychotherapy
Part Three
19. Reading the Signs/Working with Families
20. Drugs: Use and Abuse
21. Drink, Drank, Drunk
22. The Language of the Seriously Disturbed
23. Everyperson's Illness: Depression
24. Stressed Out and Anxious
25. The Problems of Healthy People
26. Introductory Notes on Personality Disorders
27. Personality Disorders: Cluster A
28. Personality Disorders: Cluster B
29. Personality Disorders: Cluster C
Part Four
30. Marriage Counseling
31. Counseling Persons with Sexual Problems
32. Counseling the HIV/AIDS Patient
33. Suicide: Weighing the Risk
34. Death in Our Culture
35. Suffering Our Losses
36. Emergencies: Being a Steady Presence
37. Taking Counsel with Ourselves
Notes
Index
Subject Headings