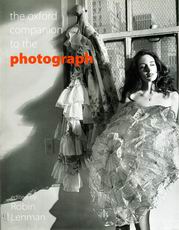 Oxford Companion to the Photograph
Lenman, Robin
Publisher: Oxford University Press
Year Published: 2005
Pages: 770pp ISBN: 0-19-866271-8
Please see our media profile in
Sources
:
Sources Select Resources
Robin Lenman, who edited this tome, worked as a lecturer in history at Warwick University. This oversized book is one of a newish series of Oxford Companions emphasizing popular culture; others have been published on Food, Wine, Music and Garden. Lenman has gathered together about 1600 entries from 142 contributors and editors (they are listed with their affiliations). The book, in dictionary arrangement with asterisked cross-references, comprises 800 biographies of photographers and inventors, and 800 entries on history, techniques, movements, styles, and fashion. It is, of course, illustrated with photographs: the iconic and classic, plus others - about 300 in all (50 in colour). The book celebrates the usage of photography in such areas as advertising, astronomy, medicine, sport, food, weddings, erotica, and human celebrations. There are larger features on particular aspects of photography, such as aerial photography, photojournalism, wildlife photography, Adobe Photoshop, optical transfer, and lens development. Throughout it all, there is an acknowledgement that digital imaging is dominating the field. The book concludes with a bibliography, a chronology, a list of Web sites, and an index to people and organizations.
* Audience or interest level: photographers, libraries, newspapers and magazines, art historians.
* Some interesting facts: "Several things set this Companion apart from most other reference books. One is the many national and regional entries it contains, including some on parts of the world, such as Africa, Oceania, and Scandinavia, that rarely feature in histories or encyclopedias of photography."
* What I don't like about this resource (its shortcomings): There are no page references in the index - just a reference to the entry where the item appears. You must look up the entry. Because of the photographs, the book is very heavy, and this is unavoidable.
* What I do like about this resource (its positives): There is a thematic table of contents outlining topics on a regional/national basis, history basis, technical basis, and social aspects.
Quality-to-Price Ratio: 91
[Review by Dean Tudor]
Subject Headings