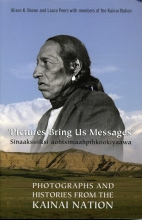 Pictures Bring Us Messages
Sinaakssiiksi aohtsimaahpihkookiyaawa. Photographs and Histories from the Kainai Nation
Brown, Alison, K., Peers, Laura, with members of the Kainai Nation
Publisher: University of Toronto Press, Toronto, Canada
Year Published: 2006
Pages: 280pp ISBN: 0-8020-4891-9
Library of Congress Number: E99.K15B76 2006 Dewey: 971.23'400497352
Please see our media profile in
Sources
:
Sources Select Resources
Pictures Brings Us Messages advocates for closing the divide between museums, historians, archivists, the cultural "authorities", and the indigenous groups which they seek to portray or represent in their work. The source communities' needs, ethics and protocols need to be taken into consideration. The book provides the hope that major researchers and the people at institutions that "display" culture can successfully collaborate with aboriginal peoples, which will in turn heighten the quality of these institutions' mandates.
Beatrice Blackwood, a European pioneer explorer took 30 pictures in 1925 of the Blood Tribe in Southern Alberta for an anthropological project. Found almost a century later by the editors without any explanation about the people or places in the images, the inklings of this project developed when Brown and Peers took an unconventional route in conducting research by contacting the Blood tribe members (known as the Kainai nation) in order to document their viewpoint of these pictures. After setting up arrangements with the community for their project, the authors conducted interviews and research about the photos with the people who incidentally shared ancestry and blood lines with the photographed members of this Blackfoot settlement. This resulted in the culturally sensitive collection of voices and photographs and a work of scholarship, which promotes the importance of working alongside communities to document history and notions of racial and cultural difference. The work also outlines crucial factors for project managers to keep in mind during their field research and writing processes. The book has international relevance despite its specific Canadian context due to its value for other indigenous groups and heritage institutions, which can learn and prosper from the process and rationale used in creating this book.
The authors conclude the book with a statement of consent by two members from the Blood Tribe, who comment on the importance of preserving and sharing historical knowledge for younger generations and in order to spread awareness about cultural heritage. The statement specifically comments on the importance of using pictures as a medium as opposed to the written word, which they label as the "white man's" version of history that fails to capture their culture's belief in the sanctity of oral history.
[Abstract by Amanpreet Dhami]
Subject Headings