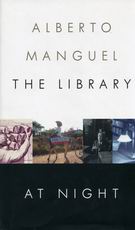 The Library at Night
Manguel, Alberto
Publisher: Knopf Canada, Canada
Year Published: 2006
Pages: 376pp ISBN: 978-0-676-97588-8
Library of Congress Number: Z665.M35 2006 Dewey: 027
Please see our media profile in
Sources
:
Sources Select Resources
The Library at Night, written by the acclaimed writer on books and reading, tells the story of the important role of libraries in human civilization and how books are an essential link between the individual and the world. Throughout this book, Manguel argues that libraries capture the memories of individual people and entire cultures by using his own personal life, academic education, and internet libraries to illustrate his thesis. His geographic focus in this narrative of libraries is international, ranging through Egypt, England, Greece, the Arab World, China and the borderless Google.
Manguel opens his book with observations about how humans are obsessed with tracking down meaning and making sense of the universe, which is "dearth of meaning" and lacks a "discernable purpose." This cultivated meaning is recorded in the forms of books, scrolls, and computer chips only to be stored away on shelves, both material and virtual, in libraries. The Library at Night is a book about this human quest for meaning situated in the institution of the library and Manguel's fascination with it. The library provides us with an image of the real world, which we can ourselves create, but which in turn is created by that world and its suffering and happiness.
Topics covered include discussions about famous people's collections, how some people have risked their lives in preserving censored book collections, the stories of monumental libraries being erected, the importance of oral "memory libraries" of prisoners and the examination of imaginary libraries portrayed in works of art and literature.
[Abstract by Amanpreet Dhami]
Table of Contents
Foreword
The Library as Myth
The Library as Order
The Library as Space
The Library as Power
The Library as Shadow
The Library as Shape
The Library as Chance
The Library as Workshop
The Library as Mind
The Library as Island
The Library as Survival
The Library as Oblivion
The Library as Imagination
The Library as Identity
The Library as Home
Conclusion
Acknowledgments
Notes
Image Credits
Index
Subject Headings