Sources Bookshelf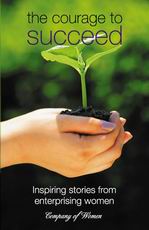 Courage to Succeed
Inspiring stories from enterprising women
Publisher: Company of Women, Oakville, Canada
Price: $20 ISBN: 0-9735057-8-8
Please see our media profile in
Sources
:
Anne Day -- Company of Women
Thirty-six women from wildly diverse backgrounds take a personal and professional leap of faith into the centre of their own lives. Although the visions vary and motivations differ, each finds the courage to follow a dream; each weaves passion and purpose into her everyday life, and each plants the seeds to grow a successful business.
Order through Company of Women - www.companyofwomen.ca
Subject Headings
---

Sources is a directory for journalists, writers, news editors, researchers. Use Sources to find experts, media contacts, spokespersons, scientists, lobbyists, officials, speakers, university professors, researchers, newsmakers, CEOs, executive directors, media relations contacts, spokespeople, talk show guests, PR representatives, Canadian sources, story ideas, research studies, databases, universities, colleges, associations, businesses, government, research institutions, lobby groups, non-government organizations (NGOs), in Canada and internationally.
© Sources 2021. The information provided is copyright and may not be reproduced in any form or by any means (whether electronic, mechanical or photographic), or stored in an electronic retrieval system, without written permission of the publisher. The content may not be resold, republished, or redistributed. Indexing and search applications by Ulli Diemer and Chris DeFreitas.