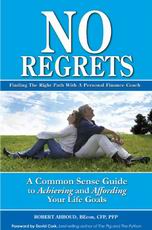 No Regrets
Finding The Right Path With A Personal Finance Coach
Abboud, Robert
http://www.lifegoalsplanning.com
ISBN: 10:0973907169
Please see our media profile in
Sources
:
Robert Abboud, Author, CFP and President of Wealth Strategies
Simple Book, Life Changing Results
One of the most difficult things to accomplish is to successfully plan for the future while enjoying today. No Regrets contains concrete steps to set specific life and financial goals and shows how to achieve and afford them. Written in a simple, clear manner, these common sense strategies can be implemented by anyone. Learn how to take control of your money through
the use of the Envelope System.
Finally a Personal Finance book that focuses on what money should do for you. With a focus on Life Goals Planning, No Regrets provides advice from Certified Financial Planner, Robert Abboud. Through his first-hand experience with clients, Robert wants to share with others how they can achieve and afford their life and financial goals.
Learn more and purchase at www.lifegoalsplanning.com
Subject Headings