Sources Bookshelf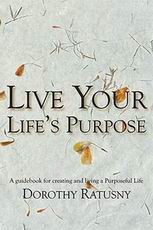 Live Your Life's Purpose
A guidebook for creating and living a Purposeful Life
Ratusny, Dorothy M.A., (C). OACCPP, PhD (Candidate)
http://www.dorothyratusny.com/dorothy_ratusny_book1.html
Publisher: Insomniac Press, London, United Kingdom
Year Published: 2008
Pages: 180pp Price: $19.95 ISBN: 13: 978-1 897178-68-3
Please see our media profile in
Sources
:
Dorothy Ratusny, M.A., (C). OACCPP., Psychotherapist and Author of The Purpose of Love
Dorothy's second book, Live Your Life's Purpose, reminds us that the secret to our authentic happiness is in knowing our life's purpose and living that purpose -- daily.
The book offers a pragmatic approach to developing the skills of consciousness, self-evolution, and self-actualization, enabling you to identify the bigger purpose for your individual existence. Dorothy encourages readers to adopt a philosophy of self-awareness and guided exploration (using her simple, and yet empowering introspective exercises) as a way of cultivating inner wisdom and living your truth.
In Live Your Life's Purpose, Dorothy simplifies the process of figuring out what you need to do with your life in order to be happy. She offers readers a solution for making long-desired changes, and for living a life that is fulfilling and purposeful.
Subject Headings
---

Sources is a directory for journalists, writers, news editors, researchers. Use Sources to find experts, media contacts, spokespersons, scientists, lobbyists, officials, speakers, university professors, researchers, newsmakers, CEOs, executive directors, media relations contacts, spokespeople, talk show guests, PR representatives, Canadian sources, story ideas, research studies, databases, universities, colleges, associations, businesses, government, research institutions, lobby groups, non-government organizations (NGOs), in Canada and internationally.
© Sources 2021. The information provided is copyright and may not be reproduced in any form or by any means (whether electronic, mechanical or photographic), or stored in an electronic retrieval system, without written permission of the publisher. The content may not be resold, republished, or redistributed. Indexing and search applications by Ulli Diemer and Chris DeFreitas.