Sources Bookshelf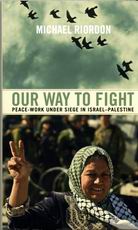 Our Way to Fight
Peace-work under siege in Israel-Palestine
Riordon, Michael
Publisher: Pluto and Between the Lines (Canadian edition)
Year Published: 2011
Please see our media profile in
Sources
:
Michael Riordon
Documents the lives and work of grassroots peace activists, Israelis and Palestinians fighting for justice and human rights on both sides of the wall. The book also explore events that stirred people to action, and the escalating risks they face in Israel, the West Bank and Gaza.
The title is borrowed from a young Palestinian who makes and teaches film in the Jenin refugee camp. "This is my way to fight," he said. Like other people featured in the book, he is a peace activist. Like them he is also, in his own way, a freedom fighter.
If a just peace can grow in this beautiful, hard land, the seeds for it will have been planted by people like these.
Contents:
A Day in the Country
My Way to Fight
The Jerusalem Syndrome
Bridge to the World
Witness
There is a Law
This is My Homeland
Facts Under the Ground
A Drop in the Sea
Dreams Have Their Uses
Civil-izing Israel
The Generation that Matters
Naming Palestine
A Cure for Amnesia
The Tempo of History
Hello?
Cracks in the Wall
The Safety of Sleep
Index
Subject Headings
---

Sources is a directory for journalists, writers, news editors, researchers. Use Sources to find experts, media contacts, spokespersons, scientists, lobbyists, officials, speakers, university professors, researchers, newsmakers, CEOs, executive directors, media relations contacts, spokespeople, talk show guests, PR representatives, Canadian sources, story ideas, research studies, databases, universities, colleges, associations, businesses, government, research institutions, lobby groups, non-government organizations (NGOs), in Canada and internationally.
© Sources 2021. The information provided is copyright and may not be reproduced in any form or by any means (whether electronic, mechanical or photographic), or stored in an electronic retrieval system, without written permission of the publisher. The content may not be resold, republished, or redistributed. Indexing and search applications by Ulli Diemer and Chris DeFreitas.