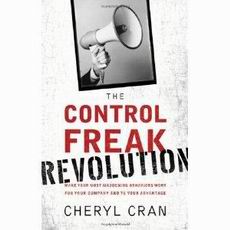 The Control Freak Revolution
Make Your Most Maddening Behaviors Work for Your Company and to Your Advantage
Cran, Cheryl
http://www.cherylcran.com/store.php
Publisher: Career Press
Year Published: 2008
Pages: 224pp Price: 19.95 ISBN: 978-1-56414-984-8
Please see our media profile in
Sources
:
Cheryl Cran, CSP - Thought Leader on Trends, Generations and Technology
Leaders in business are typically criticized as control freaks. The Control Freak Revolution shows you that being a control freak is actually a good thing, and why CEOs look for leaders who can use control to increase employee and team effectiveness.
But leadership is a tough job. You face a number of challenges, such as:
* Attracting new employees and keeping good ones.
* Managing different personalities and different generations.
* Getting tasks done quickly, accurately, and under pressure.
All these challenges can be met with ease when you are able to control and influence others to perform at the highest levels possible. In this practical, no-nonsense guide, author Cheryl Cran teaches you how to be a successful "control freak" leader in seven easy steps, with exercises to help you implement the ideas in each chapter. The book will show you how to:
* Evaluate and improve your leadership style.
* Set up systems that support the results you want.
* Bust through the myths that limit growth within the organization.
* Get your employees to review your performance as a leader.
Also included are telling insights and anecdotes from real CEOs and famous leaders such as Donald Trump, Martha Stewart, and Rudy Guiliani, who have used control to their advantage. With The Control Freak Revolution, any leader at any level can learn how to be a positive control freak who creates positive results.