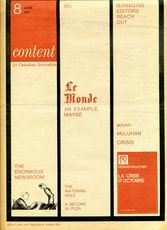 Content Magazine - Number 8
June 1971
Publisher: Content Magazine, Toronto, Canada
Date Written: 01/06/1971
Year Published: 1971
Table of Contents:
The enormous newsroom, Technolgy's child: newspapers aren't changing as fast as society is
The miracle Le Mond Wrought: is it possible/desirable here? An inverciew tihe Jean Schwobel - evolution of the shared managment plan at Le Monde, France
From Managing Editors An Outreach by Dick MacDonarld. Canadian Managing Editor's Conference report
A matter of hiring by C.E. Wilson and F.K. Bamrick, Employment and journalism
The gap between usand the rest: The void between media and the puiblic
To the parapets, friends and beware the rocks: The press and its influence and role
The w3atering hole. "Grandma's," Moncton
Revisisting McLuhan is a Tingling Massage . Book review of teh medium is the rear view mirror.
A peek into the bainet: Book review of la Crise d'Octobre by Gerard Pelletier
Subject Headings