Sources Bookshelf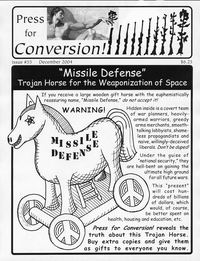 Press for Conversion #55
December 2004
http://coat.ncf.ca/our_magazine/links/55/55.htm
Publisher: Coalition to Oppose the Arms Trade
Date Written: 01/12/2004
Year Published: 2004
Please see our media profile in
Sources
:
Coalition to Oppose the Arms Trade
"Missile defense" is a deceptive term -- it is a linguistic shield to protect the military-industrial complex (and political allies) from public attack. The term disguises their plan to put weapons into space. While politicians pretend that "missile defense" has nothing to do with space weapons, the corporate media perpetuates the myth that this military program is purely defensive.
Subject Headings
---

Sources is a directory for journalists, writers, news editors, researchers. Use Sources to find experts, media contacts, spokespersons, scientists, lobbyists, officials, speakers, university professors, researchers, newsmakers, CEOs, executive directors, media relations contacts, spokespeople, talk show guests, PR representatives, Canadian sources, story ideas, research studies, databases, universities, colleges, associations, businesses, government, research institutions, lobby groups, non-government organizations (NGOs), in Canada and internationally.
© Sources 2021. The information provided is copyright and may not be reproduced in any form or by any means (whether electronic, mechanical or photographic), or stored in an electronic retrieval system, without written permission of the publisher. The content may not be resold, republished, or redistributed. Indexing and search applications by Ulli Diemer and Chris DeFreitas.