Sources Bookshelf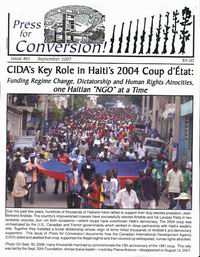 Press for Conversion #61
September 2007
http://coat.ncf.ca/our_magazine/links/61/61-TOC.htm
Publisher: Coalition to Oppose the Arms Trade
Date Written: 01/09/2007
Year Published: 2007
Please see our media profile in
Sources
:
Coalition to Oppose the Arms Trade
The Canadian International Development Agency (CIDA) helped overthrow the democratically-elected government of Jean Bertrand Aristide in 2004. In the years prior to this US-led regime change, although Aristide and his Lavalas government were extremely popular among the country's poor citizens, CIDA drastically cut bilateral aid. CIDA then poured millions into extremely partisan Haitian groups that represented the interests of Haiti's corporate elite.
Subject Headings
---

Sources is a directory for journalists, writers, news editors, researchers. Use Sources to find experts, media contacts, spokespersons, scientists, lobbyists, officials, speakers, university professors, researchers, newsmakers, CEOs, executive directors, media relations contacts, spokespeople, talk show guests, PR representatives, Canadian sources, story ideas, research studies, databases, universities, colleges, associations, businesses, government, research institutions, lobby groups, non-government organizations (NGOs), in Canada and internationally.
© Sources 2021. The information provided is copyright and may not be reproduced in any form or by any means (whether electronic, mechanical or photographic), or stored in an electronic retrieval system, without written permission of the publisher. The content may not be resold, republished, or redistributed. Indexing and search applications by Ulli Diemer and Chris DeFreitas.