Sources Bookshelf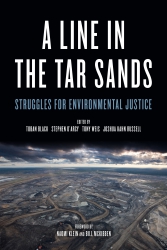 A Line in the Tar Sands
Struggles for Environmental Justice
Russell, Joshua Kahn; D'Arcy, Stephen; Weis, Tony; Black, Toban
Publisher: PM Press
Year Published: 2014
Pages: 392pp ISBN: 978-1-62963-039-7
-
Tar sands "development" comes with an enormous environmental and human cost. But tar sands opponents—fighting a powerful international industry—are likened to terrorists, government environmental scientists are muzzled, and public hearings are concealed and rushed.
Yet, despite the formidable political and economic power behind the tar sands, many opponents are actively building international networks of resistance, challenging pipeline plans while resisting threats to Indigenous sovereignty and democratic participation. Including leading voices involved in the struggle against the tar sands, A Line in the Tar Sands offers a critical analysis of the impact of the tar sands and the challenges opponents face in their efforts to organize effective resistance.
Contributors include: Angela Carter, Bill McKibben, Brian Tokar, Christine Leclerc, Clayton Thomas-Muller, Crystal Lameman, Dave Vasey, Emily Coats, Eriel Deranger, Greg Albo, Jeremy Brecher, Jess Worth, Jesse Cardinal, Joshua Kahn Russell, Lilian Yap, Linda Capato, Macdonald Stainsby, Martin Lukacs, Matt Leonard, Melina Laboucan-Massimo, Naomi Klein, Rae Breaux, Randolph Haluza-DeLay, Rex Weyler, Ryan Katz-Rosene, Sâkihitowin Awâsis, Sonia Grant, Stephen D'Arcy, Toban Black, Tony Weis, Tyler McCreary, Winona LaDuke, and Yves Engler.
[from publisher]
Subject Headings
---

Sources is a directory for journalists, writers, news editors, researchers. Use Sources to find experts, media contacts, spokespersons, scientists, lobbyists, officials, speakers, university professors, researchers, newsmakers, CEOs, executive directors, media relations contacts, spokespeople, talk show guests, PR representatives, Canadian sources, story ideas, research studies, databases, universities, colleges, associations, businesses, government, research institutions, lobby groups, non-government organizations (NGOs), in Canada and internationally.
© Sources 2021. The information provided is copyright and may not be reproduced in any form or by any means (whether electronic, mechanical or photographic), or stored in an electronic retrieval system, without written permission of the publisher. The content may not be resold, republished, or redistributed. Indexing and search applications by Ulli Diemer and Chris DeFreitas.