Sources Bookshelf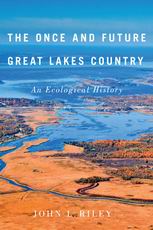 The Once and Future Great Lakes Country
An Ecological History
Riley, John L.
Publisher: McGill-Queen's University Press, Canada
Date Written: 15/12/2014
Year Published: 2014
Pages: 516pp Price: $29.95 ISBN: 9780773543881
A passionate, wide-ranging history of the landscapes around the Great Lakes.
The Once and Future Great Lakes Country is a history of environmental change in the Great Lakes region, looking as far back as the last ice age, and also reflecting on modern trajectories of change, many of them positive. John Riley chronicles how the region serves as a continental crossroads, one that experienced massive declines in its wildlife and native plants in the centuries after European contact, and has begun to see increased nature protection and re-wilding in recent decades. Yet climate change, globalization, invasive species, and urban sprawl are today exerting new pressures on the region's ecology.
Covering a vast geography encompassing two Canadian provinces and nine American states, The Once and Future Great Lakes Country provides both a detailed ecological history and a broad panorama of this vast region. It blends the voices of early visitors with the hopes of citizens now.
[From the Publisher]
---

Sources is a directory for journalists, writers, news editors, researchers. Use Sources to find experts, media contacts, spokespersons, scientists, lobbyists, officials, speakers, university professors, researchers, newsmakers, CEOs, executive directors, media relations contacts, spokespeople, talk show guests, PR representatives, Canadian sources, story ideas, research studies, databases, universities, colleges, associations, businesses, government, research institutions, lobby groups, non-government organizations (NGOs), in Canada and internationally.
© Sources 2021. The information provided is copyright and may not be reproduced in any form or by any means (whether electronic, mechanical or photographic), or stored in an electronic retrieval system, without written permission of the publisher. The content may not be resold, republished, or redistributed. Indexing and search applications by Ulli Diemer and Chris DeFreitas.