Sources Bookshelf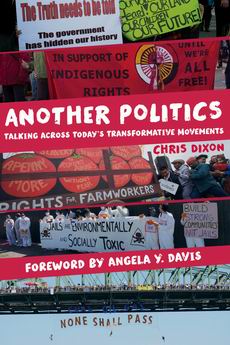 Another Politics: Talking Across Today's Transformative Movements.
Dixon, Chris
Publisher: University of California Press
Year Published: 2014
Pages: 384pp
Dixon examines the trajectory of efforts that contributed to the radicalism of Occupy Wall Street and other recent movement upsurges. He presents the histories and principles that shape many contemporary struggles.
Subject Headings
---

Sources is a directory for journalists, writers, news editors, researchers. Use Sources to find experts, media contacts, spokespersons, scientists, lobbyists, officials, speakers, university professors, researchers, newsmakers, CEOs, executive directors, media relations contacts, spokespeople, talk show guests, PR representatives, Canadian sources, story ideas, research studies, databases, universities, colleges, associations, businesses, government, research institutions, lobby groups, non-government organizations (NGOs), in Canada and internationally.
© Sources 2021. The information provided is copyright and may not be reproduced in any form or by any means (whether electronic, mechanical or photographic), or stored in an electronic retrieval system, without written permission of the publisher. The content may not be resold, republished, or redistributed. Indexing and search applications by Ulli Diemer and Chris DeFreitas.