Sources Bookshelf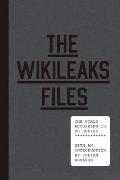 The Wikileaks Files: The World According to US Empire
Assange, Julian et al
Publisher: Verso
Date Written: 31/08/2015
Year Published: 2015
Pages: 448pp ISBN: 9781781688748
A compilation of contributions from WikiLeaks editor-in-chief Julian Assange, WikiLeaks section editor Sarah Harrison, and a team of journalists, professors, and writers. The book is full of eye-opening scholarly analysis of the diplomatic cables made public by the WikiLeaks group, focusing on the 2010 - 2011 'Cablegate' disclosures. It takes on a huge amount of data and delivers a thorough introduction to the narratives of U.S. policy that the cables reveal.
Subject Headings
---

Sources is a directory for journalists, writers, news editors, researchers. Use Sources to find experts, media contacts, spokespersons, scientists, lobbyists, officials, speakers, university professors, researchers, newsmakers, CEOs, executive directors, media relations contacts, spokespeople, talk show guests, PR representatives, Canadian sources, story ideas, research studies, databases, universities, colleges, associations, businesses, government, research institutions, lobby groups, non-government organizations (NGOs), in Canada and internationally.
© Sources 2021. The information provided is copyright and may not be reproduced in any form or by any means (whether electronic, mechanical or photographic), or stored in an electronic retrieval system, without written permission of the publisher. The content may not be resold, republished, or redistributed. Indexing and search applications by Ulli Diemer and Chris DeFreitas.