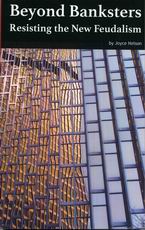 Beyond Banksters
Resisting the New Feudalism
Nelson, Joyce
Publisher: Watershed Sentinel Books, Canada
Year Published: 2016
Pages: 164pp ISBN: 978-0-9953286-0-0
Library of Congress Number: HG1573.N44 2016 Dewey: 332.1
Beyond Banksters explores how the powers of the Bank of Canada were appropriated in the 1970s, resulting in billions of dollars in public debt. From Milton Friedman to Justin Trudeau's Canada Infrastructure Bank, from BlackRock to crappy trade deals to Bilderberg, Nelson exposes the major players privatizing the world and creating a new state of feudalism. Icelanders resisted. Nelson says Canada must too.
-
Table of Contents:
Introduction
The Bank of Canada Lawsuit
The Rise of the Overlords
A 21st Century Trojan Horse
The "New Economy Czar"
The Turn-Around Specialist
Year of Our Overlords 2010
Zucotti Park & the Meme Warriors
COMER & the National Memory
EU Flaunts Its Undemocratic Tendencies
CETA: The "No Lawyers Left Behind" Treaty
The Potential of Postal Banking.
More Crappy Trade Deals: TPP & TISA
Hillary, Larry & Dominic: Other Looting Opportunities
Bilderberg & "The Wake Behind the Shark Fin"
Are Pipeline P3s in the Agenda?
Lessons from Iceland
Conclusion: A Dangerous Combination
Acknowledgments
Endonotes
Index
About the Author
Subject Headings