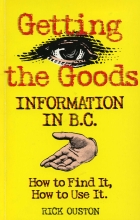 Getting the Goods
Information in BC How to Find It, How to Use It
Oustonm, Rick
Publisher: New Star Books, Vancouver, Canada
Year Published: 1990
Pages: 150pp ISBN: ISBN 0-922586-05-1
Library of Congress Number: Z674.5.C2008 1989 Dewey: 020.'9711
Please see our media profile in
Sources
:
Sources Select Resources
Anyone in Canada needing information about British Columbia would likely find the book Getting the Goods: Information in B.C. essential. We at Sources feel rather good about promoting this new book by Rick Ouston. A working journalist and editor for 13 years, he's written for several major daily newspapers in North America, as well as for the CBC and BCTV. His efforts have earned him several awards and citations.
This 150-page book contains 46 chapters from which anyone can benefit. Ouston's easy conversational style includes his personal experiences showing how each resource can be helpful.
Now to the part we happen to feel especially good about. On page 123 is a chapter titled "SOURCES." The title "doesn't refer to secret government Deep Throats who will meet you in underground garages if you leave a red flag in the balcony flower pots," writes Ouston. Rather, it refers to this very publication that "... is worth its weight in loose-lipped public bureaucrats." Ouston doesn't mind the chapter sounding like a "breathless promotional" because he has "... used SOURCES to get home numbers of information officers for the Canadian Security and Intelligence Service 10 minutes before deadline..." He wraps up the chapter by stressing that "SOURCES will save time and money, and will help you find what you are looking for, even if you're not sure what that is."
Some information in Getting the Goods is out of date. Taking what we know best, for instance, SOURCES price has increased since Ouston wrote his book. (see the masthead). We've grown to 500 pages (then down to 476 in this edition) from 300. Some such oversights are inevitable. As Ouston says in his introduction, some information may be off since a lot can change between the time a book is written and the time it's published.
The chapter headings may cause slight inconvenience. Though titles such as Adoption and Bankruptcy are self-explanatory, others aren't. It's not, for example, self-evident that the chapter Ten-K refers to the U.S. Securities Exchange Commission.
The absence of fax numbers is pretty noticeable. In a day and age when most offices have fax machines, this should be considered necessary information. Time is often very scarce for people doing research.
Most sorely missed in Ouston's book is an index. This is one feature every reference work should contain for the sake of convenience. Since not all headings are clear, an index would definitely make all the information easier to access and save time.
Getting the Goods is a book valuable beyond the circle of writers and researchers. Many chapters contain pertinent information for the average person who needs a starting point for his or her research. In Zen and the Art of Putting it All Together, Ouston lists books he considers necessary for those doing research in B.C. He recommends, for instance, Overbury's Finding Canadian Facts Fast, the B.C. Government phone book, IRE Reporter's Handbook, the white pages and SOURCES. Those of us familiar with Getting the Goodsfeel it would be a perfect addition to the complete journalist's reference shelf. Maybe that's why you'll notice it on the desk photographed for the cover of this Sources edition.
Subject Headings