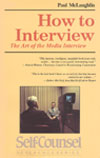 How to Interview
The Art of the Media Interview
McLaughlin, Paul
Publisher: Self-Counsel Press, Vancouver, Canada
Year Published: 1990 First Published: 1986
Pages: 233pp Price: 9.95 ISBN: 0-88908-872-1
Library of Congress Number: PN4784.I6M24 1990 Dewey: 070.4'3
Please see our media profile in
Sources
:
Sources Select Resources
How to Interview: The Art of Media Interview is a guide to good interviewing with experiences of professionals as examples of how to go about it. The book is divided into different sections with headings such as "The Art of Listening," "Negotiating the Interview," and "Print Interviews." Each section also contains a feature interview with well-known interviewers like Patrick Watson, George Plimpton, and Barbara Frum. The book covers a wide range of topics including how to line up interviews, where to find research material, the best locations for interviews, how tone of voice affects an interview and how to use quotes in interviews. The underlying idea of the book is that there cannot be rigid, set rules and instructions for interviewing. There are certain guidelines, and a certain amount of preparation one can do for an interview, but there is also a level of spontaneity required. The book is quite thorough in its coverage of various aspects of interviewing and deals with the subject from multiple angles. According to the author, the book is not a textbook but "a personal interpretation of the interview process".
Paul McLaughlin has worked as a producer, interviewer and researcher for CBC Radio, teaches journalism at Ryerson Polytechnical Institute in Toronto, is the co-author of the script for the NFB film Acid From Heaven and has written articles for many magazines.
[Abstract by Nabeeha Chaudhary]
Subject Headings