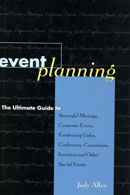 Event Planning
Allen, Judy
Publisher: Wiley, Toronto, Canada
Year Published: 2000
Pages: 303pp ISBN: 0-471-64412-9
Library of Congress Number: AS6.A44 2000 Dewey: 658.4
Please see our media profile in
Sources
:
Sources Select Resources
Event Planning is a guide that covers all the details from start to finish of holding an event of any kind. It covers every consideration at every step, and proves useful to both amateur planners and veterans. It is full of tips of the trade, sample charts, lists of things to remember, examples of task delegation, and case studies. The focus is on business events, but other special events and gatherings can be improved by looking at these tips. The appendixes contain sample cost sheets, payment schedules, and function sheets, and more resources can be found at the companion
web-site. The book is meant to be used as a working tool for organizing events.
Chapters include: The First Steps (Initial Planning and Budgeting); Organization and Timing; Location, Location, Location; Transportation; Guest Arrival; Venue Requirements; Who's it All For?; Food and Beverage; and Other Considerations. The guide walks through the planning process from beginning to end and includes examples of situational problems that can be avoided, but are the last thing a planner would think of. This is a blueprint for not only the planning of an event but everything involved in its execution. The guide was designed to make sure the reader's event could come off without a hitch.
Events that can benefit from this guide include business meetings, weddings, product launches, corporate events, fund raisers, conferences, conventions, and premieres. Specific tips are added for these types of events and more. Differences in venue, timing and budget for each type of event is also described. According to the author, any company holding any event can learn something from Event Planning.
[Abstract by Mia Manns]
Subject Headings