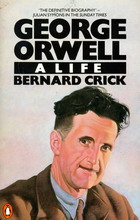 George Orwell: A Life
Crick, Bernard
Publisher: Penguin, United Kingdom
Year Published: 1980
Pages: 656pp Price: $9.95 ISBN: 0-14-00-5856-7
Looking at both the private life of Eric Blair and his public character of George Orwell, Bernard Crick constructs a life of the political writer. There is detailed commentary on how his work was received during his lifetime, and the book ends with his death shortly after the writing of Nineteen Eighty-Four. His writing is analyzed not only for its political implications, but also for its origins in Orwell's life. There is a good deal of focus on his childhood and the formation of his world vision.
Spanning 17 chapters, this book goes over Orwell's entire life from his own personal papers and journals. All of his essays, novels, descriptive works, poems and newspaper columns are referenced for their places in his life. Even his childhood letters home from preparatory school were included in preparing the volume.
The Appendices include rough notes for Nineteen Eighty-Four and a speculation as to the date of "Such, Such were the Joys". Located in the middle of the book is a collection of photographs of Orwell and family. Orwell and his contemporaries are quoted extensively to provide context and a first-hand account.
Remembered for his political ideologies of socialism and social responsibility, this biography attempts to also remember him as a person and to make connections between the life and the work. Orwell is shown to be a man who grew up fearing totalitarianism, poverty and supression. He believed that equality was not the same as liberty, nor was nationalism the same as patriotism. The ideas expressed in his numerous works were a result of the personal experiences that are here recounted.
[Abstract by Mia Manns]
Table of Contents
List of Illustrations
Acknowledgements
Introduction
1 "And I was a chubby boy"
2 The joys of prep school and the echoing green
3 Learning and holidays
4 Eton: Resting on the oars (1917-21)
5 An Englishman in Burma (1922-7)
6 Going native in London and Paris (1928-31)
7 Hard times or struggling up (1932-4)
8 Bookshop days (1934-5)
9 The crucial journey to Wigan Pier and home to Wallington (1936)
10 Spain and "necessary murder" (1937)
11 Coming up for air (1938-9): the political writer
12 The challenge and frustration of war (1939-41)
13 Broadcasting days (1941-3)
14 Tribune and the making of Animal Farm (194355)
15 Famous and solitary man (1945-6)
16 Jura days
17 The last days and Nineteen Eighty-Four
Appendix A
Appendix B
Notes
Index
Subject Headings