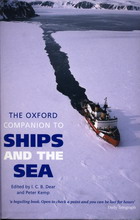 The Oxford Companion to Ships and the Sea
Dear, I.C.B., Kemp, Peter
Publisher: Oxford University Press
Year Published: 2005 First Published: 1976
Pages: 678pp ISBN: 0-19-860616-8
Please see our media profile in
Sources
:
Sources Select Resources
This book was originally published in 1976, edited by the late P.K. Kemp. It has been brought forward to 2005 by I.C.B. Dear, who had nautical background when he became a full-time writer in 1979 specializing in maritime and military history. He has edited several other works for the Oxford family. This book covers aspects of life on and under the sea: terms, oceanography, shipwrecks, shanties, sailors, explorers, maritime inventors, steam, tidal power, marine wildlife, piracy, the East India Company, etc#.To the tune of 2600 entries in dictionary arrangement, with appropriate asterisked cross-references. In the thirty years since it was originally published, there have been many maritime issues to be addressed: environmental changes and disasters, global warming, pollution, and recent scholarship. And the book covers them all, particularly global warming, with many contributions from Martin Angel. There are 250 appropriate illustrations (line drawings and photographs). The double-columned pages have larger articles signed by 19 contributors. For example, the section on "shipwrecks" has seven columns covering the environment of the shipwreck, legendary wrecks, warships, cargoes, a study of wrecks to learn about past construction methods and types of ships. There are cross-references to important wrecks which have their own entry (almost two dozen of these). The article finishes with a bibliography. At the end, there is a select index from nouns to main entries, although there are no criteria listed for inclusion.
* Audience or interest level: libraries, sea buffs, reference areas.
* Some interesting facts: By 2004, there were 180 cruise ships in operation. The largest in 2004 was Queen Mary 2 (1,131 feet length). In 2002, the principal UK shipping magazine Lloyd's List decided to refer to all merchant ships as "it", not "she".
* What I don't like about this resource (its shortcomings): There is no entry for "tidal wave", not even a cross-reference; you must use "tsunami". Also, there is no over-arcing bibliography. While there is a "see also" reference to "wreckers", there are no references to other forms of "wrecks".
* What I do like about this resource (its positives): seems pretty thorough
Subject Headings