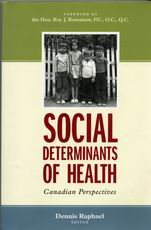 Social Determinants of Health
Canadian Perspectives
Raphael, Dennis (ed.)
Publisher: Canadian Scholars' Press Inc., Toronto, Canada
Year Published: 2004
Pages: 435pp ISBN: 1-55130-237-3
Library of Congress Number: RA418.S63 2004 Dewey: 362.1
This is a contributed volume with work from many different sources. The topic of focus is the impact of social standing on health in Canada. Socio-cultural and -economic conditions can determine the health of Canadians more predictably than genetic markers, activity and diet habits.
These social determinants of health are summarized and analyzed by over 30 medical and social academics. Included in the volume are biographies of all of the contributors, explaining their qualifications.
The eleven social determinants in Canada are Aboriginal status, conditions of early life, education level, employment and working conditions, food and sanitation, health care services, housing, income and its distribution, existence of a social safety net, social exclusion, and employment security. Gender is also considered alongside these issues. Each of these areas are explored throughout the 23 chapters, and statistics are provided to demonstrate the current status and effect of each factor. Policies and solutions are provided for each of the markers.
This book is inclusive of current research and information presented in the form of statistics, graphs, tables and diagrams. It is divided into five sections: Income Security and Employment in Canada, Education, Food and Shelter, Social Exclusion, and Social Policy. An introduction
describes the problem of class determining the health of individuals, communities, and whole jurisdictions. Once all of the issues have been explained, there are proposals for solving them in the future.
[Abstract by Mia Manns]
Table of Contents
Foreword to the Second Edition, The Honourable Carolyn Bennett
Foreword to the First Edition, The Honourable Roy J. Romanow
Preface
A note from the Publisher
Part One: Introducing the Social Determinants of Health
Chapter 1: Social Determinants fo Health: an Overview of Key Issues and Themes
Dennis Raphael
Chapter 2: Social Structure, Living Conditions, and Health
Dennis Raphael
Part Two: Income Security and Employment in Canada
Chapter 3: When Economic Growth Doesn't Trickle Down: The Wage Dimensions of Income Polarization
Ann Curry-Stevens
Chapter 4: Income, Income Distribution, and Health in Canada
Nathalie Auger and Carolyne Alix
Chapter 5: Precarious Work and the Labour Market
Diane-Gabrielle Tremblay
Chapter 6: Labour Market Flexibility and Worker Insecurity
Emile Tompa, Michael Polanyi, and Janice Foley
Chapter 7: The Unhealthy Canadian Workplace
Andrew Jackson
Chapter 8: Understanding and Improving the Health of Work
Peter Smith and Michael Polanyi
Part Three: Foundations of Lifelong Health: Education
Chapter 9: Early Childhook Education and Care as a Social Determinant of Health
Martha Friendly
Chapter 10: Early Childhood Education and Health
Brenda L. Smith-Chant
Chapter 11: The State and Quality of Canadian Public Elementary and Secondary Education
Charles Ungerleider, Tracey Burns, and Fernando Cartwright
Chapter 12: Literacy and Health Literacy: New Understands about Their Impact on Health
Barbara Ronson and Irving Rootman
Part Four: Foundations of Lifelong Health: Food and Shelter
Chapter 13: Food Insecurity
Lynn McIntyre and Krista Rondeau
Chapter 14: Health Implications of Food Insecurity
Valerie Tarasuk
Chapter 15: Housing
Michael Shapcott
Chapter 16: Housing and Health: More Than Bricks and Mortar
Toba Bryant
Part Five: Social Exclusion
Chapter 17: Social Exclusion
Grace-Edwards Galabuzi
Chapter 18: Social Inclusion/Exclusion and Health: Dancing the Dialectic
Ronald Labonte
Chapter 19: The Health of Aboriginal People
Janet Smylie
Part Six: Public Policy
Chapter 20: Follow the Money: How Business and Politics Define Our Health
David Langille
Chapter 21: Health and Health Care: A Human Rights Perspective
Elizabeth McGibbon
Chapter 22: Public Policy and the Welfare State
Lars K. Hallstrom
Chapter 23: Public Policy, Gender, and Health
Pat Armstrong
Chapter 24: Surmounting the Barriers: Making Action on the Social Determinants of Healht a Public Policy Priority
Dennis Raphael and Ann Curry-Stevens
Appendix: Strengthening the Social Determinants of Health: The Toronto Charter for a Healthy Canada
References
Contributors' Biographies
Copyright Acknowledgements
Index
Subject Headings