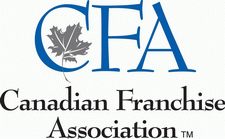 The Franchise Show Returns to Montreal for Franchise Entrepreneurship Week
January 14, 2014
Aspiring entrepreneurs can learn how to become small business owners through franchising at The Franchise Show in Montreal on January 18 & 19
(Toronto, ON) January 13, 2014… This January, during Franchise Entrepreneurship Week in Montreal, The Franchise Show (www.thefranchiseshow.ca) will empower aspiring entrepreneurs to become small business owners through franchising. Attendees can meet face-to-face with representatives from some of Canada's leading franchise brands, attend free educational seminars and speak one-on-one with franchise experts to learn how to become business owners but with the resources and support of an established brand behind them. The Franchise Show will take place on Saturday, January 18 and Sunday, January 19 at the Place Bonaventure (www.placebonaventure.com), North/Level 200, 800 De La Gauchetière St. West.
Co-produced by the Canadian Franchise Association (www.cfa.ca) and the Conseil québécois de la franchise (www.cqf.ca), The Franchise Show exclusively features CFA and CQF members from a wide range of industries, from food and retail to beauty supplies and education. A list of exhibitors can be found at: goo.gl/en9cNC.
"Many Canadians dream of becoming small business owners but not everyone has the know-how or the original idea to start a business from scratch," says Lorraine McLachlan, CFA's President and CEO. "Through the proven business concept and the support provided by the franchisor, franchising can be a tremendous way for Canadians to achieve success as small business owners. The Franchise Show is the best venue to begin investigating franchise opportunities."
In addition to discovering franchise opportunities and speaking with franchisors, attendees at The Franchise Show can learn how to achieve success in franchising through free seminars held throughout the weekend, including:
• "Learn from a Franchise Industry Leader" presented by Pino Di Ioia, BeaverTails
• "Legal Aspects of Acquiring a Franchise" presented by Francois Alepin, Alepin Gauthier Avocats
• "Franchise Business Format – How to Become a Franchisee" presented by Pierre Garceau, Conseil québécois de la franchise
• "How to Finance Your Franchise Goals" presented by Chantal Giroux and Daniel McKay, RBC Royal Bank / Mara Ashraf, National Bank
Aspiring business owners will also have the opportunity to speak one-on-one with leading experts in the franchise community at the Ask the Experts Booth. In addition, the CFA Resource Booth will be available to provide guidance about those hard-to-answer questions. For more information about The Franchise Show, visit www.thefranchiseshow.ca.
The Franchise Show
Dates: Saturday, January 18 and Sunday, January 19
Time: 11 a.m. to 5 p.m.
Location: Place Bonaventure, North/Level 200, 800 De La Gauchetière St. West.
Admission: One day pass - $10, Weekend pass - $15 (Tickets at the door)
NOTE: Pre-register online at www.thefranchiseshow.ca to receive a $2.00 off admission coupon
The Franchise Show in Montreal Sponsors
Platinum Sponsor: BeaverTails
Gold Sponsor: Claude J. Pellan, Attorney,
Silver Sponsors: Alepin Gauthier Avocats Inc., Pizza Pizza, Second Cup
Aisle Sponsors: Alepin Gauthier Avocats Inc., BeaverTails, National Bank
Official Signage Sponsor: Beyond Digital, Le Journal de Montreal
CFA National Sponsors: CIBC, CINTAS, Microsoft, Moneris Solutions, Reshift Media, SmarterU.com
About the Canadian Franchise Association (CFA)
With over 550 corporate members nation-wide, representing many of Canada's best-known brands, the Canadian Franchise Association is the national voice of franchising in Canada and works with all levels of government to ensure the development of industry-made solutions. CFA promotes excellence in franchising and educates Canadians about franchising, specific franchise opportunities and proper due diligence. For more information, visit www.cfa.ca.
About Conseil québécois de la franchise (CQF)
Le Conseil québécois de la franchise déploie toutes ses ressources et énergies afin de promouvoir la franchise comme modèle d'affaires. Il offre son expertise aux franchiseurs et aux franchisés afin qu'ils puissent améliorer leurs compétences et accorde aux futurs franchiseurs et franchisés toute l'assistance nécessaire à la mise en place de cette formule. Le CQF est le porte-parole de l'industrie de la franchise auprès des gouvernements fédéral et provincial, des administrations municipales et des organismes publics et parapublics.
For more information contact
:
Kenny Chan
Director, Communications
Canadian Franchise Association
Phone: 800-665-4232 ext. 232
Email: kchan@cfa.ca
Website: www.cfa.ca
Click here to view our Sources Listing:
Topics: