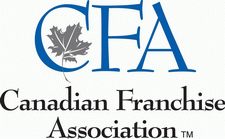 Dragon to Deliver Keynote Address at the 2014 CFA National Convention
March 11, 2014
(Toronto, ON) March 11, 2014… Bruce Croxon, Founder of LavaLife.com and Round13 Capital and Dragon on CBC's Dragons' Den, is one of several prominent business leaders who will deliver a keynote address during the 23rd annual Canadian Franchise Association (CFA) National Convention, to be held from April 6-8 at the Sheraton on the Falls in Niagara Falls, Ontario.
"As an entrepreneur and investor, I know first-hand that success in business is best achieved through collaboration and innovation and that's what CFA National Convention is all about – coming together as an industry to share best practices and learn new insights," says Croxon. "I look forward to sharing my strategies for success with Canada's franchise community at the biggest educational and networking event in Canadian franchising."
Over 500 franchise leaders are expected to attend this year, representing brands like A&W, Boston Pizza, Dairy Queen, Home Instead Senior Care, Kumon, M&M Meat Shops, McDonald's, Nurse Next Door, Pizza Nova, Second Cup, Smoke's Poutinerie, Two Men and a Truck and more.
"As the premier event for franchising in Canada, the CFA National Convention offers unmatched learning and networking opportunities for all franchise professionals, from new and established franchisors to franchise industry suppliers," says Lorraine McLachlan, CFA's President and CEO. "With a powerful lineup of Keynote Speakers and over 40 educational sessions to choose from, the CFA National Convention provides a forum for franchise business leaders to network, share ideas and work together to shape the future of franchise excellence in Canada."
Rounding out three days of in-depth educational programming, CFA National Convention will feature four Keynote Speakers:
• Bruce Croxon, Founder of Round13 Capital and Dragon on CBC's Dragons' Den, will deliver a keynote presentation on the future of business in Canada, offering insights into seizing market opportunities, what investors are looking for and how franchisors can position their brands for success.
• Don Hutson, CEO of U.S. Learning and co-author of The One Minute Entrepreneur, will coach delegates on "The 6 Ps of Entrepreneurial Excellence" that are guaranteed to generate greater profits.
• Domenic Primucci, President, Pizza Nova, will share the secret recipe behind his award winning franchise system's success.
• Brian Scudamore, Founder and CEO of 1-800-GOT-JUNK?, WOW 1 DAY PAINTING and You Move Me, will recount how he built a $137M globally-admired franchise empire with nothing more than $700 and an ambitious idea.
In addition to learning and networking, attendees will celebrate their peers at the much anticipated Gala Awards Presentation on Monday, April 7, where CFA will announce the winners of the CFA Awards of Excellence in Franchising, the CFA Recognition Awards and the Franchisees' Choice Designation. These highly coveted awards celebrate excellence in franchising and the mutually-rewarding relationship between a franchise system and its franchisees.
For more information about the 23rd annual CFA National Convention, the CFA Awards of Excellence in Franchising, Franchisees' Choice Designation, and the CFA Recognition Awards, visit www.cfa.ca/NationalConvention.
About the Canadian Franchise Association
The Canadian Franchise Association (CFA) is the recognized authority on franchising in Canada. With almost 600 corporate members nation-wide, representing many of Canada's best-known brands, CFA is the indispensable resource for the franchise community and advocates on behalf of franchisors and franchisees in Canada to enhance and protect the franchise business model. CFA promotes excellence in franchising and educates Canadians about franchising, specific franchise opportunities and proper due diligence through its many events, programs, publications, and websites (www.cfa.ca and www.LookforaFranchise.ca).
For more information contact
:
Lauren d'Entremont
Assistant Manager, Communications
Canadian Franchise Association
Phone: 416-695-2896 ext. 238
Email: ldentremont@cfa.ca
Website: www.cfa.ca
Kenny Chan
Director, Communications
Canadian Franchise Association
Phone: 416-695-2896 ext. 232
Email: kchan@cfa.ca
Website: www.cfa.ca
Click here to view our Sources Listing:
Topics: