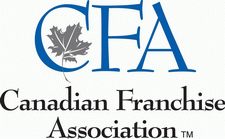 Canadian Franchise Association Announces Winners of the 2014 CFA Recognition Awards
April 3, 2014
(Toronto, ON) April 2, 2014… The Canadian Franchise Association (CFA) is pleased to announce the winners of the 2014 CFA Recognition Awards. The awards will be presented during a gala awards presentation dinner on Monday, April 7 at the 23rd annual CFA National Convention in Niagara Falls, Ontario.
CFA Recognition Awards pay tribute to individuals and franchise systems for their achievements and contributions to the Canadian franchise community and for their commitment and contributions to philanthropic endeavours. Nominations are solicited from CFA members across Canada and winners are selected by committee based on merit.
"The CFA Recognition Awards are about excellence in the franchise community," says CFA President and Chief Executive Officer, Lorraine McLachlan. "Franchising is a significant and growing business sector in Canada making positive contributions to the Canadian economy and the community-at-large. Our prestigious CFA Recognition Awards celebrate these contributions – whether corporately through the CFA Hall of Fame, individually through the CFA Lifetime Achievement Award and Vince Nichols Memorial Award, or socially through the CFA Corporate Citizen Award. We congratulate all the winners on their achievements."
The recipients of the 2014 CFA Recognition Awards are:
Category: CFA Hall of Fame Award
Recipient: Booster Juice
From its humble beginnings in Sherwood Park, Alberta, where its founder Dale Wishewan used to test out his first smoothie creations in his kitchen, Booster Juice has grown to over 300 locations in five countries in just 14 years. As both the company and its founder continue to push the envelope, it's no surprise they've received numerous industry awards and accolades, including the Ernst & Young Prairies Entrepreneur of the Year Award in 2013.
The CFA Hall of Fame Award is presented in recognition of outstanding performance by a franchise system over a significant period of time. Winners have high brand recognition (on either a regional or national scope) and are recognized for their solid business performance. They exhibit leadership in the franchise community in many ways including: encouraging excellence through sharing best practices; participating in speaking engagements; exhibiting a willingness to mentor new franchisors, and raising the profile of the franchise business model.
Category: CFA Lifetime Achievement Award
Recipient: John Woodburn, CJ Woodburn & Associates
For over 40 years, John Woodburn has put his heart and soul into franchising through his work as a franchisor, franchisee, expert consultant to other start-up franchisors and supporter of the CFA. He began his career in franchising with Grandma Lee's in the early 1970s, first as President, then as a franchisee.
In 1975, he founded CJ Woodburn and Associates, a franchise consulting company, working with brands like Coffee Culture, Grade Expectations, JDI Cleaning, Kwik Kopy, Sangster's and William's Fresh Cafe. Over the years, he has helped to grow and strengthen the franchise industry in Canada by lending his expertise to start-up franchisors in a range of industries. His career has also taken him beyond Canada's borders to help franchisors achieve success in the United States, Europe, the Middle East and the Caribbean.
In addition to his consulting work, John has generously volunteered his time to educate the public about franchising. As a CFA member since 1995, he has spoken at countless CFA events, served on CFA committees and contributed to a multitude of publications and articles about franchising.
The CFA Lifetime Achievement Award recognizes exceptional achievement and contribution to Canadian franchising and the community-at-large through demonstrated excellence throughout one's lifetime and career in franchising. This award typically honours an individual who may be a franchisor, franchisee, or a support services provider. Hallmarks of excellence include a high profile and leadership recognition in the franchise community, speaking engagements, published articles, mentorship and being an ambassador for franchising.
Category: CFA Corporate Citizen Award
Recipient: CARSTAR Automotive Canada
When the founder of CARSTAR Automotive Canada learned that a franchisee's granddaughter had been diagnosed with Cystic Fibrosis, he and the rest of the franchise network rallied together in support of Cystic Fibrosis Canada. In 15 years, they have raised over $2 million for the cause through corporate and in-store donations and an annual charity carwash held at all locations across Canada. Every year, franchisees give of their time and effort to organize this event, which has been named the World's Largest Car Wash by the Guinness Book of World Records. It is a true testament to CARSTAR and its franchise partners' commitment to finding a cure for Cystic Fibrosis.
Recipient: A&W Food Services of Canada
During A&W's annual Cruisin' for a Cause fundraiser, franchisees from across Canada go back to the restaurant's 1950s roots, hosting nostalgic events like classic car gatherings, root beer chugging contests, car hop relay races and more. These fun filled events bring franchisees and their communities together to raise funds and awareness for the Multiple Sclerosis Society of Canada. In 2013, Cruisin' for a Cause raised more than $1.45 million, bringing the total number of funds raised to over $5 million in just five years.
The CFA Corporate Citizen Award is given to a franchise system that has demonstrated genuine and ongoing concern and support for a community or social service group(s). Award recipients are selected based on their philanthropic innovation, support and impact to the community whether on a local, regional, national or global scale. Elements taken into consideration include involvement throughout the franchise system and integration into the corporate culture, profile given to the support recipient organization(s), sustainability, innovation in how funds are raised, demonstrated benefit to the community, and amount of funds raised.
Category: Vince Nichols Memorial Award
Recipient: Terry Hould, ServiceMaster of Canada
For the past 13 years, Terry Hould has volunteered her time, energy and expertise to help CFA grow its membership as Chair of CFA's Membership Committee. Every month, Terry and her committee members meet to review applications from proposed CFA members, ensuring that only those franchises committed to excellence in franchising are approved as members.
In her role as Chair, which she has held since 2009, Terry not only helps CFA vet prospective members but also works with the committee to ensure that CFA's membership policies and procedures reflect the growth and direction of CFA. Even in her demanding role as National Franchise Sales Manager for ServiceMaster of Canada, she is never more than a phone call away and is always more than happy to lend her knowledge and expertise to help CFA.
Presented in memory of Vince Nichols, this award is given to an individual who, through their volunteer activities and work as an ambassador for franchising, helps the CFA grow, evolve, and deliver on its mission and vision. Vince Nichols was the Director of Franchising for Maple Leaf Mills and was a dedicated volunteer with CFA. His entrepreneurial spirit and dedication as a volunteer opened new opportunities for CFA to better serve the franchise community.
For more information about the CFA Recognition Awards, please visit: www.cfaawardsprogram.ca.
About the Canadian Franchise Association
The Canadian Franchise Association (CFA) is the recognized authority on franchising in Canada. With almost 600 corporate members nation-wide, representing many of Canada's best-known brands, CFA is the indispensable resource for the franchise community and advocates on behalf of franchisors and franchisees in Canada to enhance and protect the franchise business model. CFA promotes excellence in franchising and educates Canadians about franchising, specific franchise opportunities and proper due diligence through its many events, programs, publications, and websites (www.cfa.ca and www.LookforaFranchise.ca).
For more information contact
:
Lauren d'Entremont
Assistant Manager, Communications
Canadian Franchise Association
Phone: 416-695-2896 ext. 238
Email: ldentremont@cfa.ca
Website: www.cfa.ca
Kenny Chan
Director, Communications
Canadian Franchise Association
Phone: 416-695-2896 ext. 232
Email: kchan@cfa.ca
Website: www.cfa.ca
Click here to view our Sources Listing:
Topics: