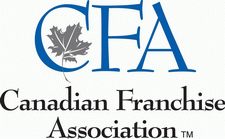 Canadian Franchise Association Announces 2014 Franchisees' Choice Designees
April 10, 2014
(Toronto, ON) April 9, 2014… The Canadian Franchise Association (CFA) (www.cfa.ca) announced the recipients of the 2014 Franchisees' Choice Designation on April 7, 2014 at a gala awards presentation during the 23rd annual CFA National Convention in Niagara Falls, Ontario. This is the fourth year for the annual Franchisees' Choice Designation program.
The Franchisees' Choice designees are CFA member franchise systems who voluntarily took part in an independently-administered survey. Their franchisees were asked to rate the franchisor in key areas of the franchise business model, including leadership; business planning and marketing; training and support; ongoing operations; and the relationship between the franchisor and franchisee. In order to qualify for this designation, a minimum of 10% of a brand's franchisees must participate. In many cases, franchisee responses were significantly higher.
"The true strength of a franchise system lies in the mutually-rewarding relationship between a franchisor and its franchisees," says Lorraine McLachlan, CFA President and Chief Executive Officer. "Being a Franchisees' Choice designee is a high honour because the high rankings in franchisee satisfaction come directly from the franchisees themselves."
In the due diligence process of investigating a franchise opportunity, speaking with existing franchisees about the opportunity being explored is essential. For prospective franchisees, the Franchisees' Choice designation identifies that a franchise brand has received solid endorsement and ratings from its franchisees. The 2014 Franchisees' Choice designees are representative of the spectrum of franchise opportunities and the diversity and excellence of CFA members.
Regardless of any awards or recognitions a franchise system may receive, CFA strongly recommends that prospective franchisees conduct thorough due diligence. CFA offers an array of products and events for prospective franchisees, including CFA's official online franchise directory LookforaFranchise.ca, FranchiseCanada magazine, the annual FranchiseCanada Directory and The Franchise Show, Canada's largest franchise-only exhibition held across Canada.
For more information about the Franchisees' Choice designation, visit www.awardsprogram.ca.
The 2014 CFA Franchisees' Choice designees are (in alphabetical order):
ActionCOACH
Aussie Pet Mobile
BeaverTails Pastry
Boston Pizza International Inc.
Budget Blinds®
CERTAPRO PAINTERS LTD.
Choice Hotels
COBS Bread
Comfort Keepers
Computer Troubleshooters Canada
Decorating Den Interiors
DRUXY'S Inc.
Edo Japan
FASTSIGNS International Inc
Fire-Alert Mobile Extinguishers
Home Instead Senior Care
HouseMaster Canada
Instant Imprints
JUSTJUNK®
Ledgers Canada
Liberty Tax Service
Lice Squad Canada Inc.
Liquid Capital Canada Corp.
Little Kickers
Mary Brown's
Pak Mail Canada
Par-T-Perfect
Pizza Nova
Pizza Pizza
Print Three Franchising Corporation
PropertyGuys.com
PuroClean
Sangster's Health Centres
Sign-A-Rama
SPEEDPRO SYSTEMS
Symposium Café
Tailored Living
The Garage Door Depot
The Grounds Guys™
TWO MEN AND A TRUCK CANADA
UCMAS Canada
White Spot Restaurants
About the Canadian Franchise Association
The Canadian Franchise Association (CFA) is the recognized authority on franchising in Canada. With almost 600 corporate members nation-wide, representing many of Canada's best-known brands, CFA is the indispensable resource for the franchise community and advocates on behalf of franchisors and franchisees in Canada to enhance and protect the franchise business model. CFA promotes excellence in franchising and educates Canadians about franchising, specific franchise opportunities and proper due diligence through its many events, programs, publications, and websites (www.cfa.ca and www.LookforaFranchise.ca).
# # #
For more information contact
:
Kenny Chan
Director, Communications
Canadian Franchise Association
Phone: 416-695-2896 ext. 232
Email: kchan@cfa.ca
Website: www.cfa.ca
Click here to view our Sources Listing:
Topics: