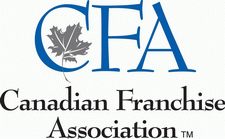 Canadian Franchise Association Welcomes New Board of Directors Members
April 10, 2014
(Toronto, ON) April 9, 2014… The Canadian Franchise Association (CFA) announced the election of Ken LeBlanc as the new Chair of the CFA Board of Directors at its Annual General Meeting held on April 8, 2014.
Ken LeBlanc is the Co-Founder, President, and Chief Executive Officer of PropertyGuys.com, Canada's only full-service, private sale franchise system. Under Mr. LeBlanc's leadership, PropertyGuys.com has grown from its humble beginnings in 1998 to a national franchise system with over 100 franchisees serving 600 communities from coast to coast. Mr. LeBlanc is the youngest person ever inducted into the Atlantic Canada's Top 50 CEOs Hall of Fame by Atlantic Business Magazine. As a respected leader in the franchise industry and trail blazer in Canadian business, Mr. LeBlanc brings significant experience and expertise in franchising, franchise operations and strategic management. Mr. LeBlanc has been a member of the CFA Board of Directors since 2008 and most recently served as CFA's First Vice-Chair.
The Association also elected John Wissent, Vice President of Franchising & Development of M&M Meat Shops Ltd. as First Vice-Chair and John DeHart, Co-Founder and Chief Executive Officer of Nurse Next Door Home Care Franchise as Second Vice-Chair.
The newest member elected to the CFA Board of Directors is Alexander Gerzon, Vice President, Franchising of CARA Operations Ltd., who serves as a Central Region Representative for a two-year term. A complete listing of the CFA Board of Directors is available at http://www.cfa.ca/About_Us/Board_of_Directors/.
About the Canadian Franchise Association
The Canadian Franchise Association (CFA) is the recognized authority on franchising in Canada. With almost 600 corporate members nation-wide, representing many of Canada's best-known brands, CFA is the indispensable resource for the franchise community and advocates on behalf of franchisors and franchisees in Canada to enhance and protect the franchise business model. CFA promotes excellence in franchising and educates Canadians about franchising, specific franchise opportunities and proper due diligence through its many events, programs, publications, and websites (www.cfa.ca and www.LookforaFranchise.ca).
For more information contact
:
Kenny Chan
Director, Communications
Canadian Franchise Association
Phone: 416-695-2896 ext. 232
Email: kchan@cfa.ca
Website: www.cfa.ca
Click here to view our Sources Listing:
Topics: