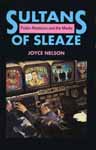 Sultans of Sleaze
Public Relations and the Media
Nelson, Joyce
Publisher: Coach House Press, Toronto, Canada
Year Published: 1989
Pages: 164pp ISBN: 0-921284-22-5
Library of Congress Number: HM263.N4 Dewey: 659.2
Please see our media profile in
Sources
:
Sources Select Resources
An unsettling read, Sultans of Sleaze reveals the extent to which we have been deceived by public relations firms on behalf of their unscrupulous clients -- the corporations and governments that control our society.
Joyce Nelson investigates the PR firm's dual agenda: the creation of favourable images and the repression of the "shadow side" of their clients' activities. The book cites specific incidents where corporations disguised or diverted attention from infringements on health and safety, the environment, and contributions to domestic and international oppression. Household names such as Nestle, McDonalds, and Ontario Hydro are exposed; government PR strategies are also scrutinized, including those of Argentina's military junta, the Reagan administration, and the Conservative government under Brian Mulroney. The driving forces behind the sleaze are greed and a reluctance to change; as Nelson writes, the practices upon which the global economy is based "are politically, morally, and environmentally bankrupt.... that is why such a tremendous public-relations effort is put into maintaining the status-quo -- a redoubling of rhetoric and photo-ops, cosmetic 'change', and meaningless gestures meant to keep us from using our own imaginations to find radical alternatives."
The first PR case outlined in the book describes Ogilvy & Mather's attempt to divert the public attention away from Nestle's marketing of infant formula in Third World clinics and hospitals. The Nestle policy, which encouraged mothers to forgo breastfeeding for the formula, was directly linked to malnutrition and high Third World infant-mortality rates. Ogilvy & Mather's report suggested a series of half-truths and deceptions. Among them was the establishment of "`a positive "do good" public service campaign on behalf of Carnation [a Nestle subsidiary]' to show the company's social responsibility." Among the programs considered were "Carnation Combats Cocaine," "Carnation Racial Awareness Program," and "Carnation Care." "Carnation Care" -- a foster-care fund for HIV-infected children and infants -- was chosen, as it addressed "Public Enemy No. 1."
Other topics and sleaze tactics covered in the book include the new "greening" of corporate PR, psychographic polling, advocacy ads, public affairs lobbying, and news management strategies.
Table of Contents
Foreword by Richard Slye
Acknowledgments
1. Introduction: The Image Brokers
2. The Time of the Hangman
3. Handling the Legitimacy Gap
4. The Power of the Pollsters
5. Multinational Free Lunch: The Zones that Eat the World
6. The " Greeting" of Establishment PR: Mind Pollution on the Rise
7. Triage: A Brief Conclusion
Appendix: BCNI Membership
Notes
Subject Headings